News



Current Field Program


WSR 2011
WSR 2012
WSR 2013



Useful Links for SDMs


PQPF Forecast:
NCEP PQPF (global & regional)
NCEP/CMC's QPF/PQPF
6hr PQPF type forecast
Relative Measure of Predictibility

Height & SLP Forecast:
MSLP forecast (NCEP & ECMWF)
Height and SLP forecast (NCEP)

Archives
W-TPARC

WSR08
WSR07
WSR06
WSR05
WSR04
WSR03
WSR02
WSR01
WSR00
WSR99



Global IR (special case)




WINTER STORM RECONNAISSANCE PROGRAM




The Winter Storm Reconnaissance (WSR) program is an enhancement of the meteorological observational network over the data sparse Pacific ocean. Dropsonde observations are taken by manned aircraft operated by NOAA's Aircraft Operations Center (G-lV) and the US Air Force Reserve (C-130s). The innovative aspect of the program is that the observations are adaptive for they are collected only prior to significant winter weather events and only in areas that influence most the forecast for these events. Based on collaborative research with university and other government agency scientists the program was established in 1999 by the Environmental Modeling Center (EMC) at the National Centers for Environmental Prediction (NCEP) of the National Weather Service (NWS). Results show that 60-80% of the targeted Numerical Weather Predictions (NWP) improved significantly due to the WSR adaptive observations, allowing forecasts related to significant winter weather events to be released 12 hours earlier than without such observations. Based on the positive results the status of the program was raised to the operational level at NWS in January 2001.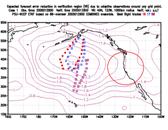 Ensemble transform Kalman filter (ETKF, Bishop et al. 2001 and Majumdar et al. 2002 ), has been selected to identify the target regions for severe weather storms in advance. Flight requests are then sent out by NCEP SDMs to CARCH, normally two days ahead of the actual flights.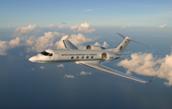 For details of the operation, refer to precedures for SDMs.