NOAA Environmental Modeling System
Documentation
Quick NEMS Facts

Employs ESMF superstructure and utilities
Digital filtering capabilities
Separate dynamics and physics components for GFS; dynamics and physics combined for NMM-B
Adiabatic (dynamics only) simulation capability
Enhanced postprocessing capability
Digital filtering capabilities

---




ESMF
NEMS uses standard ESMF (Earth System Modeling Framework) compliant software. For more information regarding ESMF, please refer to the following links:
NOAA Environmental Modeling System
(using standard ESMF compliant software)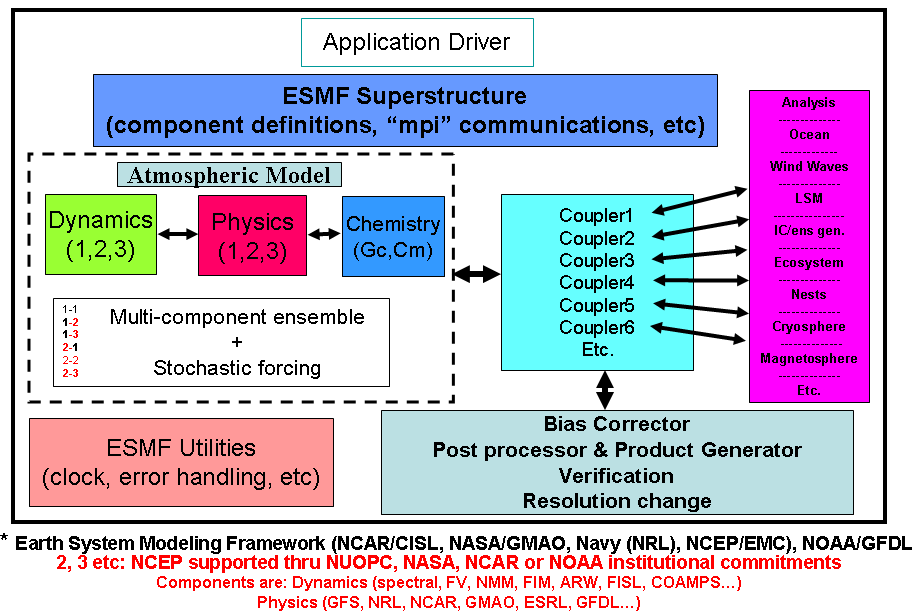 NEMS ESMF Grid Component Scheme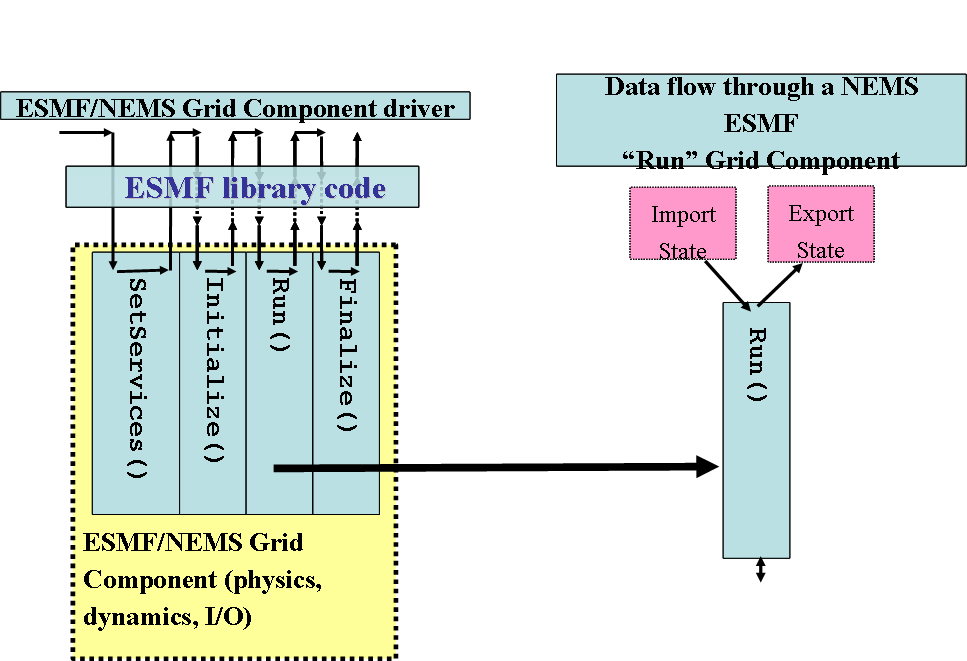 ---
NEMSIO
NEMSIO is a package that has been created to support input/output in NEMS.
Currently handles binary and Grib-1 data, and will soon be capable of handling Grib-2 and NetCDF data
Contains serial and MPI versions
Uses standard meta data and user-defined meta data
Handles endianness for different machines in its parallel version
For more detailed information about the NEMSIO package, see the above tab,
NEMSIO
.
---
NEMS Component and Directory Structures
NEMS Component Structure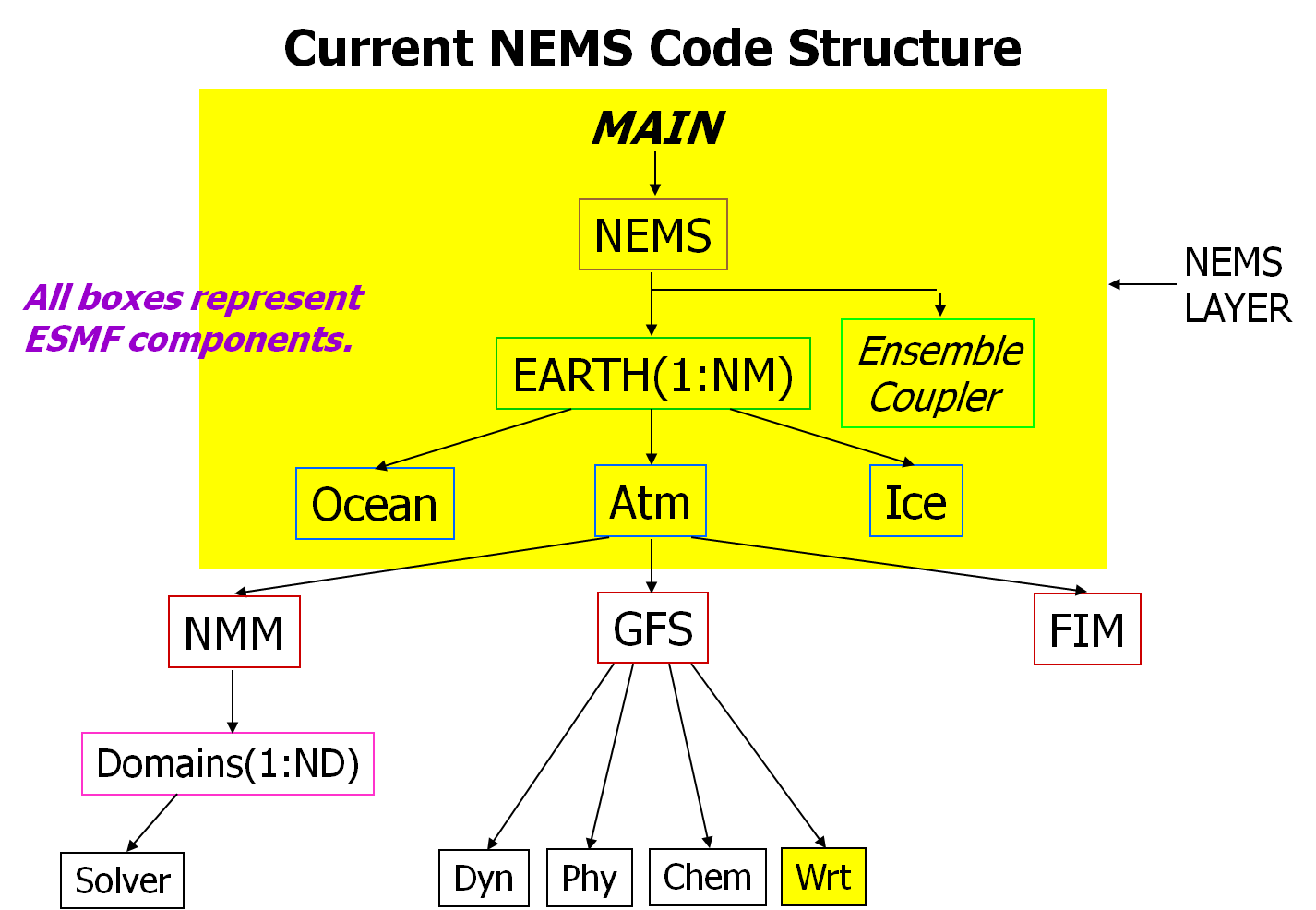 Below the large yellow box, the source codes are organized by the model developers.
The current directory structure of NEMS consists of five main directories:
/src

main program
source for the NEMS component and internal state (highest level governing component; creates EARTH)
source for the EARTH component and internal state (controls the atmosphere/hydrosphere system)
/atmos - the source for the ATM component and internal state

/gfs - all files directly related to GFS
/nmm - all files directly related to the NMM-B
/fim - all files directly related to the FIM
/gen - all files directly related to the GEN
/phys - intended to hold all physics science source code that is not core-specific and contains no ESMF (Currently holds only NMM-B routines. GFS routines under /gfs/phys.)
/share - holds files that are shared by any/all of the model cores
/post - contains only subroutines to connect NEMS and POST, no unified post source code included

/chem - GOCART source files
/ENS_Cpl - source for ensemble coupling
/conf - compile/build settings

/exe - NEMS and makedepf90 executables
/tests - examples of run scripts and NEMS regression tests
NEMS Source Code and Analysis (including data dictionary and flow chart):
NEMS revision #27084, click
here
.
Following are architecture graphs for NEMS version 11731:
Current hierarchy of NEMS components:
NEMS
EARTH
ATM
NMMdriver
NMMinstance
PHYS

Couples phys/chemistry/land

CHEM
---
NMM-B with Nests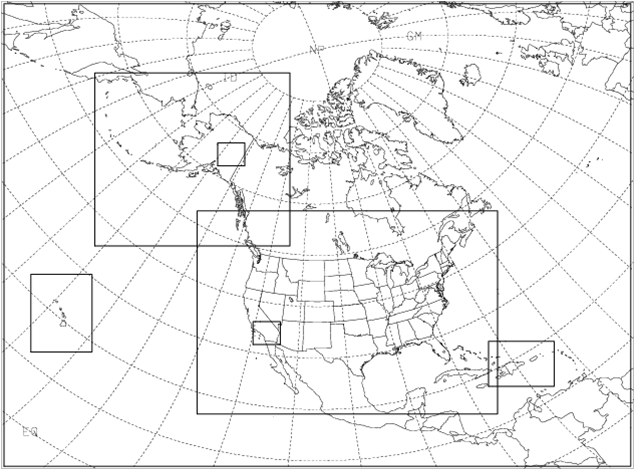 The 12km NAM will still run to 84 hr, with current output.
Fixed domain nests run to 60 hr - Implemented & operational

4 km CONUS
6 km Alaska
3 km HI & PR

Single locatable 1.33 km (CONUS) or 1.5 km (Alaska) nest to 36 hr - Implemented & operational
Nests

Static, 1-way
Boundaries from parent every time-step
Nest is "grid-associated" with parent (same orientation w.r.t. earth)
1-way and 2-way moving nests including multiple and telescoping moving nests
---
NEMS GFS Aerosol Component

Dynamics, physics and chemistry run on the same grid in the same decomposition
GOCART does not own aerosol tracers (i.e, do not allocate aerosol tracer fields)
PHY2CHEM coupler component transfers/converts data from physics export state to GOCART import state

Converts units (e.g., precip rate, surface roughness)
Calculations (e.g., soil wetness, tropopause pressure, relative humidity, air density, geopotential height)
Flips the vertical index for 3D fields from bottom-up to top-down

CHEM2PHY coupler component transfers data from GOCART export state to physics export state

Flips vertical index back to bottom-up
Updates 2d aerosol diagnostic fields
To view experimental T126 L64 NRT dust forecasts from NEMS GFS aerosol component (NGAC), click
here
. Only 3-hr AOD animation (after June 11) is posted. More results (forecast and verification) will be added as development continues.
---
Workflows & Merging
Program Flow (WRF)
Click to enlarge
NCEP Version of Program Flow (NMM-B)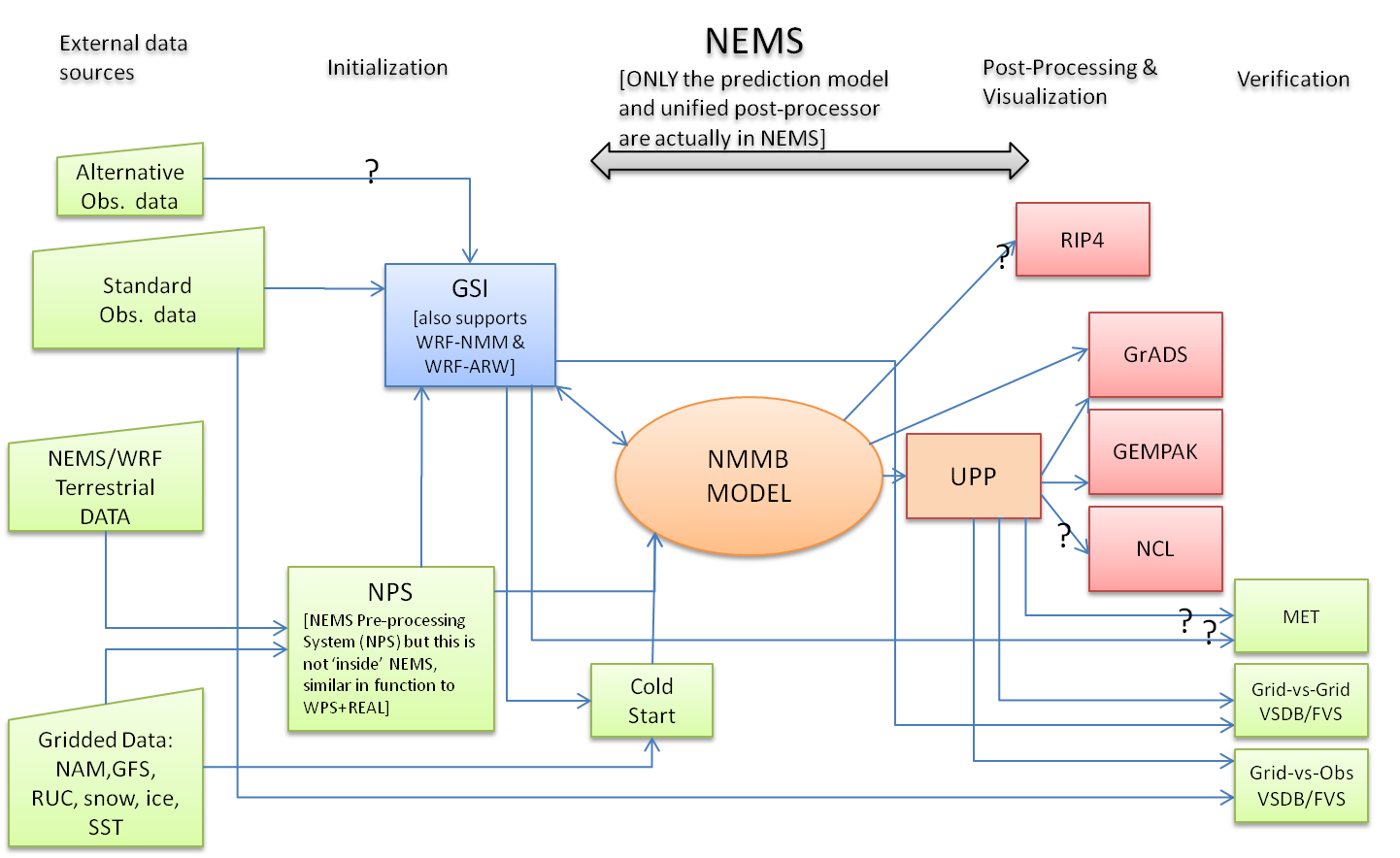 ? are pieces that are functional but not used at NCEP (click to enlarge)
NEMS Workflow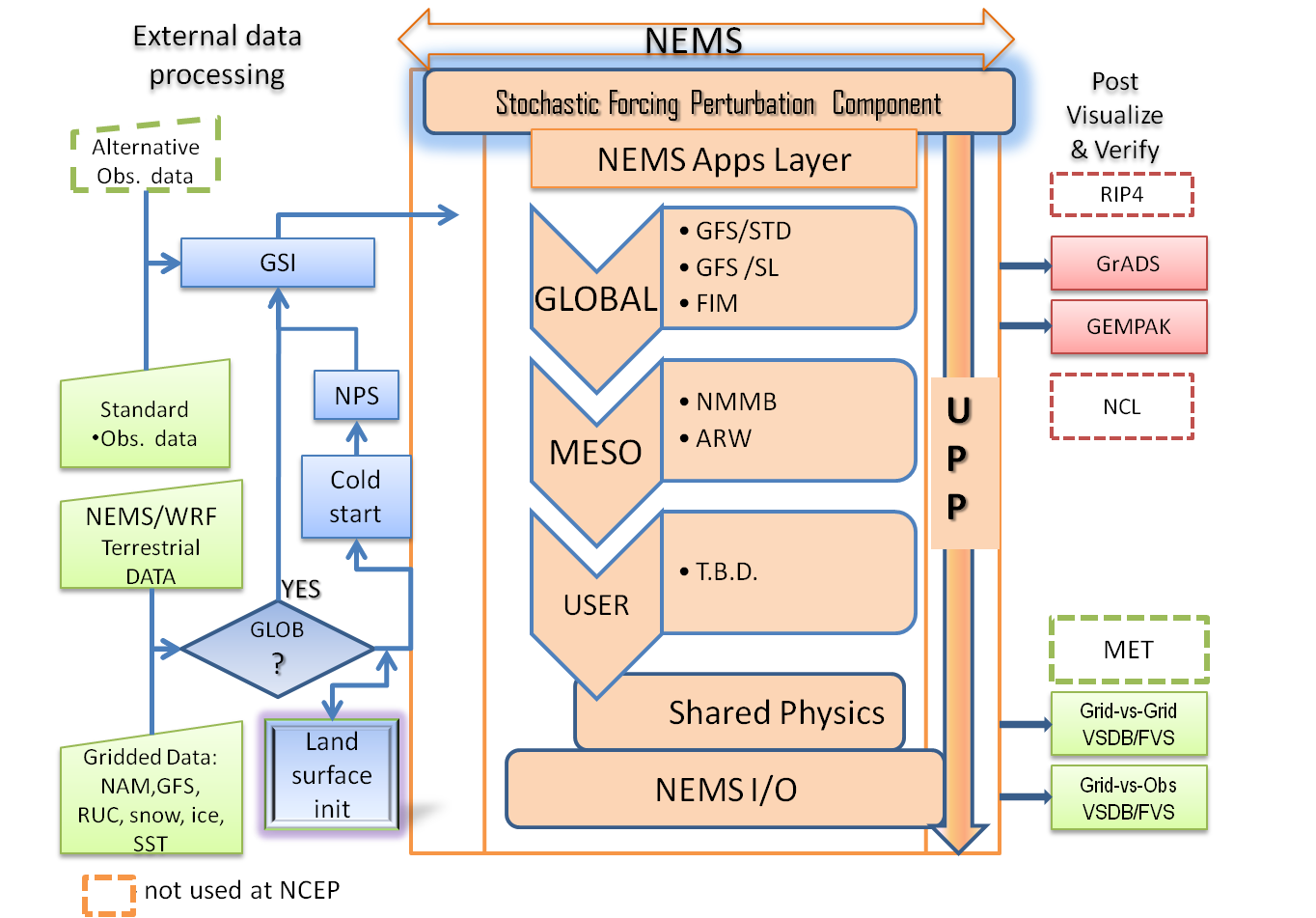 Click to enlarge
NCEP NEMS Ensemble Workflow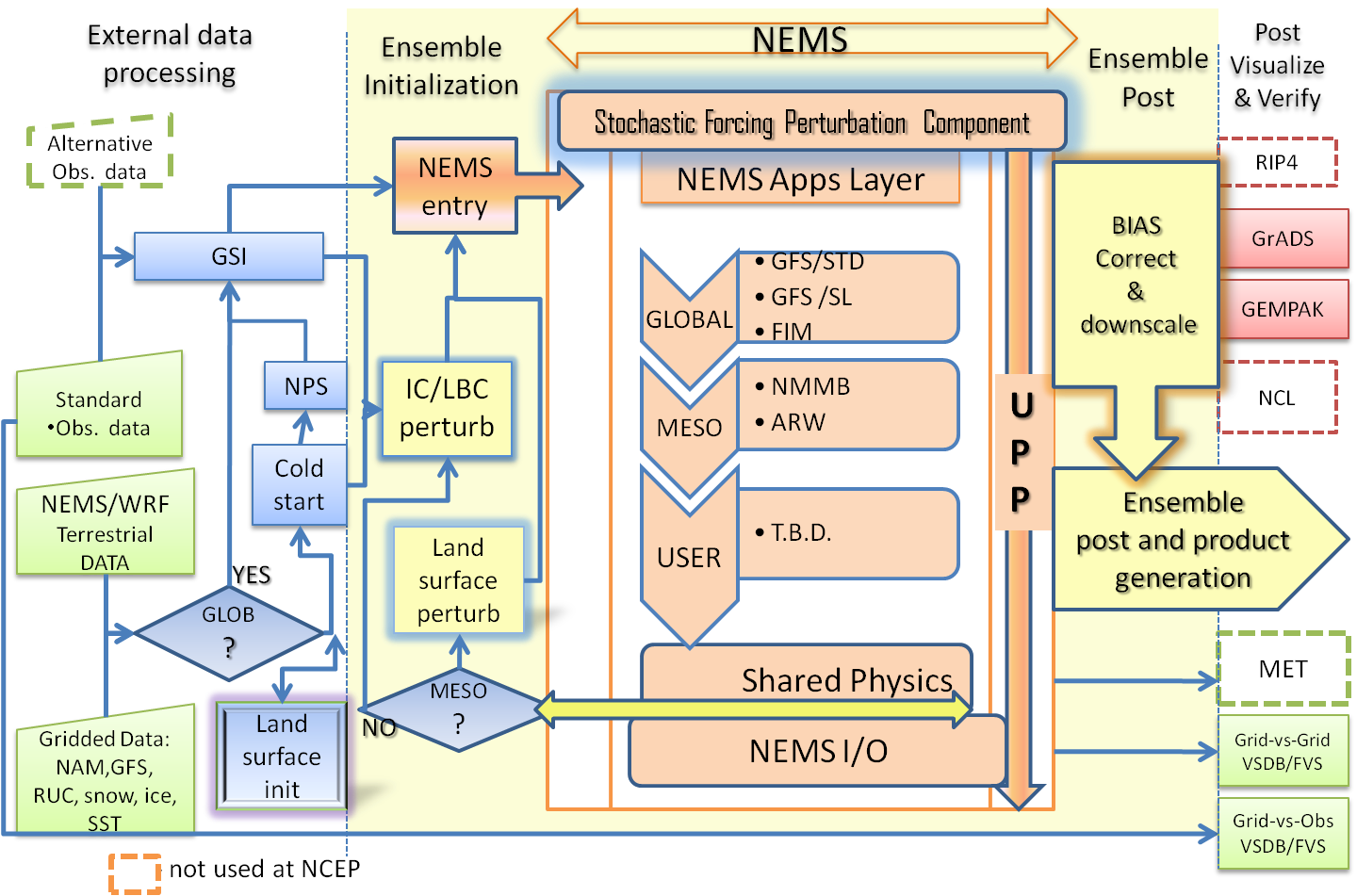 Click to enlarge