U.S. DEPARTMENT OF COMMERCE
NATIONAL OCEANIC AND ATMOSPHERIC ADMINISTRATION

NATIONAL CENTERS FOR ENVIRONMENTAL PREDICTION

THE NCEP MESO ETA MODEL POST PROCESSOR:A DOCUMENTATION

HUI-YA CHUANG AND GEOFF MANIKIN

A REVISED VERSION OF OFFICE NOTE 394 BY RUSSELL TREADON

THIS IS AN INTERNALLY REVIEWED MANUSCRIPT,PRIMARILY INTENDED FOR INFORMAL EXCHANGE OF INFORMATIONAMONG NCEP STAFF MEMBERS



Table of Contents

4.1 Constant eta and pressure fields
4.2 Sea level pressure

4.2.1 Eta mode
4.2.2 Sigma mode

4.3 Subterranean fields
4.4 Tropopause level data
4.5 FD level fields
4.6 Freezing level data
4.7 Sounding fields
4.8 Surface-based fields
4.9 10m winds and 2m temperatures
4.10 Boundary layer fields
4.11 LFM and NGM look-alike fields
7.1 Introduction
7.2 Model and post processor source
7.3 Namelist FCSTDATA
7.4 The Control File
7.5 The Template
7.6 Summary
1. Introduction
2. The Eta Model
,
.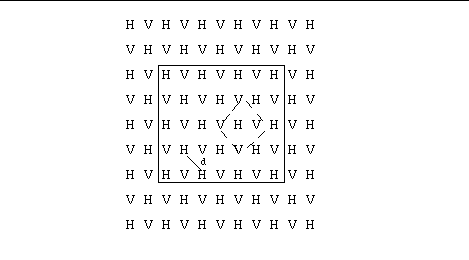 Fig. 1. Arakawa E grid of Eta model. H denotes mass points, V velocity points. The solid box outlines the computational domain. The dashed box represents a model step.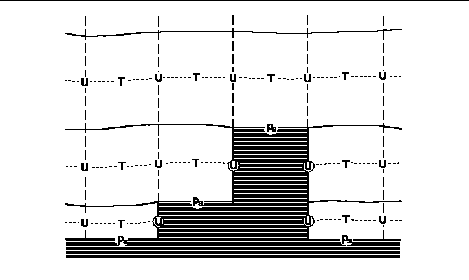 3. The Eta Post Processor - An Overview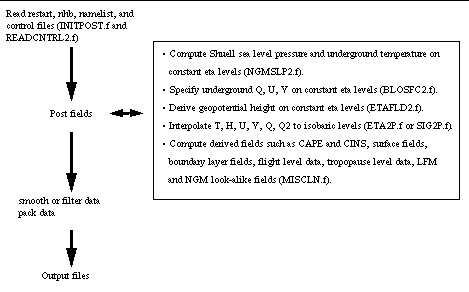 4. The Eta Post Processor - Details
4.1 Constant eta and pressure fields
4.2 Sea level pressure
4.2.1 Eta mode
,
The Shuell correction is applied in two cases:
(1) When only

(msl) exceeds

cr, set

(msl) to

cr,
(2) When both

(sfc) and

(msl) exceed

cr, set

,
where

.
Once mean sea level pressure is computed, a consistent 1000 mb height field is obtained using the relation

. This simple relationship itself can be used to obtain sea level pressure given 1000 mb geopotential heights and an assumed mean density. In the post, the mean density, ?*, is computed from

* and p* (the average in log pressure of p(sfc) and p(msl)).
In contrast to the traditional column approach, the Mesinger scheme uses horizontal interpolation to obtain underground virtual temperatures. He made an assumption that sea level pressure should be obtained to maintain the shape of the isobars on surfaces of constant elevation. Therefore, it is physically more reasonable to create underground temperatures using atmospheric temperatures surrounding the mountain rather than extrapolating downward from a single temperature on the mountain. The step-mountain topography of the Eta model simplifies coding of this approach. The algorithm starts from the tallest resolved mountain and steps down through the topography. Virtual temperatures

on each step inside the mountain (i.e., underground) are obtained by solving a Laplace equation:
.
,
4.2.2 Sigma mode
4.3 Subterranean fields
4.4 Tropopause level data.
4.5 FD level fields.
4.6 Freezing level data.
4.7 Sounding fields.


4.8 Surface-based fields.
4.9 10-meter winds and 2-meter temperatures.
.
,
4.10 Boundary layer fields.
4.11 LFM and NGM look-alike fields.
.
LFM look-alike fields include three layer mean relative humidities and a partial column precipitable water. An approach similar to that used for the NGM is not directly applicable. The distinction arises due to the vertical structure of the LFM. The approach taken here was to assume a sigma based vertical coordinate in the LFM and identify appropriate sigma levels bounding LFM layer mean fields. The sigma levels used for layer mean relative humidities are 0.33 to l.00, 0.66 to l.00,and 0.33 to 0.66. For precipitable water the range in sigma is 0.33 to 1.00. Given these sigma bounds the same sigma to eta mapping used for the NGM fields is applied here.
5. Summary
6. References
Haltiner, G.J., and R.T. Williams, 1980: Numerical Prediction and Dynamic Meteorology. John Wilely & Sons, New York, 477 pp.
Janjic, Z. I., 1974: A stable centered difference scheme free of two-grid-interval noise. Mon. Wea. Rev., 102, 319-323.
__, 1979: Forward-backward scheme modified to prevent two-grid-interval noise and its application in sigma coordinate models. Contrib. Atmos. Phys., 52, 69-84.
__, 1984: Nonlinear advection schemes and energy cascade on semistaggered grids. Mon. Wea. Rev., 112, 1234-1245.
__, 1990: The step-mountain coordinate: physical package. Mon. Wea. Rev., 118, 1429-1443. Keyser, D.A., 1990: NMC Development Division Rotating Random Access Disk Archive - User Documentation. [Available from NMC, 5200 Auth Road, Washington, D.C., 20233].
Lobocki, L., 1993: A procedure for the derivation of surface-layer bulk relationships from simplified second-order closure models. J. Appl. Meteor, 32, 126-138.
Manikin G., M. Baldwin, W. Collins, J. Gerrity, D. Keyser, Y. Lin, K. Mitchell, and E. Rogers, 2000: Changes to the NCEP Meso Eta Runs: Extended range, added input, added output, convective changes. NWS Technical Procedures Bulletin No. 465, NOAA/NWS, 85 pp.
Mellor, G.L., and T. Yamada, 1974: A hierarchy of turbulence closure models for planetary boundary layers. J. Atmos. Sci., 31,1791-1806.
__, and__, 1982: Development of a turbulence closure model for geophysical fluid problems. Rev. Geophys. Space Phys., 20, 851-875.
Mesinger, F., 1973: A method for construction of second-order accuracy difference schemes permitting no false two-grid-interval wave in the height field. Tellus, 25, 444-458.
__, 1974: An economical explicit scheme which inherently prevents the false two-grid-interval wave in forecast fields. Proc. Symp. on Difference and Spectral Methods for Atmosphere and Ocean Dynamics Problems, Novosibirsk, Acad. Sci., Novosibirsk, Part II, 18-34.
__, 1984: A blocking technique for representation of mountains in atmospheric models. Riv. Meteor Aeronautica, 44,195-202.
__, 1990: Horizontal pressure reduction to sea level. Proc. 21st Conf. for Alpine Meteor, Zurich, Switzerland, 31-35.
Miyakoda, K., and J. Sirutis, 1983: Impact of sub-grid scale parameterizations on monthly forecasts. Proc. ECMWF Workshop on Convection in Large-Scale Models, ECMWF, Reading, England, 231-277.
Phillips, N.A., 1957: A coordinate system having some special advantages for numerical forecasting. J. Meteor., 14, 297-300.
Rogers, E., T. Black, D. Deaven, G. DiMego, Q. Zhao, M.Baldwin, and Y. Lin, 1996: Changes to the operational Early Eta analysis/forecast system and the National Centers for Environmental Prediction, Wea. Forecasting, 11, 391-413.
__, M. Baldwin, T. Black, K. Brill, F. Chen, G. DiMego, J. Gerrity, G. Manikin, F. Mesinger, K. Mitchell, D. Parrish, Q. Zhao, 1997: Changes to the NCEP Operational "Early" Eta Analysis/ Forecast System. NWS Technical Procedures Bulletin No. 447, NOAA/NWS, 85 pp.
__, T. Black, W. Collins, G. Manikin, F. Mesinger, D. Parrish and G. DiMego, 2000: Changes to the NCEP Meso Eta Analysis and Forecast System: Assimilation of satellite radiances and increase in resolution. NWS Technical Procedures Bulletin No. 473, NOAA/NWS, 85 pp.
__, M. Ek, Y. Lin, K. Mitchell, D. Parrish, and G. DiMego, 2001: Changes to the NCEP Meso Eta analysis and Forecast system: Assimilation of observed precipitation, upgrades to land-surface physics, modified 3DVAR analysis. NWS Technical Procedures Bulletin No. 473, NOAA/NWS, 14 pp.
Saucier W.J., 1957: Principles of Meteorological Analysis, Dover Publications, New York, 438 pp.
Slingo, J.M., 1980: A cloud parameterization scheme derived from GATE data for use with a numerical model. Quart J. Roy. Met. Soc., 106, 747-770.
Smagorinsky, J.J., L. Holloway, Jr., and G.D. Hembree, 1967: Prediction experiments with a general circulation model, Proc. Inter. Symp. Dynamics Large Scale Atmospheric Processes. Nauka, Moscow, U.S.S.R., 70-134.
Stackpole, J., 1990: NMC Handbook [Available from NMC, 5200 Auth Road, Washington, D.C., 20233].
Zhang, G.J., and N.A. McFarlane, 1991: Convective Stabilization in Midlatitudes. Mon. Wea Rev., 119, 1915-1928.
Ziltinkevitch, S.S., 1970: Dynamics of the planetary boundary layer. Gidrometeorologicheskoe Izdatelystvo, Leningrad, 292 pp. (in Russian).
7. Appendix 1: Using the Eta Post Processor
7.1 Introduction
7.2 Model and post processor source
7.3 Namelist FCSTDATA
7.4 The Control File
The SMTH block on the identifier line controls the smoothing or filtering. In most applications the model to output grid process involves two steps. First the staggered E grid is filled to make a regular grid. This is then interpolated to the output grid. Multiple pass smoothing or filtering of the data may be activated at any of three places in this process. The first element of the SMTH block activates a fourth order smoother that works on the staggered E grid. A positive, nonzero integer tells the post to apply this smoother to the field the indicated number of times. A more heavy handed multiple pass smoother was found necessary to produce pleasing vorticity fields. Thus, when smoothing a vorticity field, it is this smoother, not the fourth order smoother, that is applied. Once data are on a regular grid a 25 point Bleck filter may be applied in one of two possible places. The second integer segment in the SMTH block controls the filtering of data on a filled E grid. The last integer block of SMTH activates the Bleck filter on the output grid. The Bleck filter is designed to remove scales smaller than twice the grid separation. It has a fairly sharp response curve and will largely preserve field maxima and minima even with several applications.
Following the identifier line is the level line (L =) where the user requests data on particular levels. There is room for output on as many as sixty levels. Some fields (e.g., total precipitation, shelter temperature, tropopause pressure) are single level fields. For single level fields the integer 1 in the place immediately following the left parenthesis activates output of the field. In general the integer 1 activates output at a given level; 0 turns off output at that level. However, there are exceptions which are noted below.
For isobaric fields (fields for which S= 8) the pressure levels to which data may be posted are controlled by namelist FCSTDATA read in at the start of an Eta model integration. The order in which pressure levels are specified in FCSTDATA maps directly to the left to right ordering of integers on the level line. For example, using the FCSTDATA shown in Fig. 8.1, moving left to right across the level line are pressure levels 50, 75, 100, 125, .... ,975, and 1000 mb. Fields may be posted to different pressure levels by editing namelist FCSTDATA.
As a further example consider the lines
(HEIGHT OF PRESS SFCS ) Q=( 1), S=( 8), SMTH=(00 02 02)
L=(11111 11111 11111 11111 11111 11111 11111 11110 00000 00000 00000 00000)
from Fig. 8.2. The field is geopotential height on isobaric surfaces. The Q and S integers are set for Office Note 84 packing. For each requested level two passes of the Bleck filter will be applied to data on the filled E grid and the output grid. Heights at all 39 isobaric levels as listed in Fig. 8.1 will be posted.
Two options are available for data on constant eta layers. Setting the n-th integer on the level line instructs the post to extract data on eta layer n. By "eta layer n" we mean the n-th eta layer using the top down vertical indexing of the eta model. At times it may be of interest to see what a selected field looks like at the n-th atmospheric (i.e., above ground) eta layer. This is a terrain following perspective. To activate this option, set the n-th integer (left to right) on the level line to any integer between 2 and 9, inclusive. For example, if a user wanted pressure data on the first, second, and fourth atmospheric eta layers the settings could be
(PRESS ON ETA SFCS ) Q=( 8), S=( 148), SMTH=(00 00 00)
L=(22020 00000 00000 00000 00000 00000 00000 00000 00000 00000 00000 00000)
In addition to eta layer and isobaric level data, multiple levels may be requested for FD (Flight level) fields and boundary layer fields. There are six FD levels. The ordering on the level line is from the lowest (914 m MSL) to the highest (3658 m MSL) FD level. Boundary layer fields are available from six 30 mb deep layers. The ordering on the level line is from the lowest (nearest the surface) to the highest constant mass layer. Two types of convective available potential energy (CAPE) and convective inhibition (CIN) are available. The first type (type one) starts the vertical integration from the lowest above ground model layer. The second type (type two) searches the six 30mb constant mass layers for the layer with the highest equivalent potential temperature. The CAPE and CIN calculation then starts from this level using this layer mean parcel. Type 1 CAPE and CIN are activated by setting the leftmost integer on the level line to 1. The second leftmost integer controls posting of type two CAPE and CIN. Both types may be requested. All other fields are single level, meaning that the leftmost integer activates (1) or deactivates (0) posting of that field.
The last section of a control file is the end mark. This single line tells the post processor to stop reading the control file and start posting requested fields. The key word on the line is DONE. The post scans each line read from the control file for this string. It is the only way to specify the end of a control file.
As shown in Fig. 8.2, individual header-body-end control files may be chained together to output data in numerous ways. The post reads the control files sequentially. If pre-computed interpolation weights are to be read in, the user must ensure that their assigned unit numbers correspond to the order in which the grids appear in the combined control file. One last detail involves the end mark at the end of the last control file. The post knows it has processed everything when it reads an end of file mark (EOF) from the control file. This EOF must immediately follow the last DONE statement. If not, the post will unsuccessfully try to process what it thinks is the next set of control cards.
7.5 The Template
7.6 Summary
Appendix 2: Product Generator