Numerical Forecast Systems
MMAB Operational Wave Models
The operational ocean wave predictions of NOAA/NWS/NCEP use the wave model WAVEWATCH III® using operational NCEP products as input (source code is available).
The model is run four times a day: 00Z, 06Z, 12Z, and 18Z. Each run starts with 9-, 6- and 3-hour hindcasts and produces forecasts of every 3 hours from the initial time out to 180 hours (84 hours for the Great Lakes).
The wave model suite consists of global and regional nested grids. As background information, a list of selected references and a chronological list of model changes are available. Finally, extensive validation data are available for the global, Alaskan Waters and Western North Atlantic models.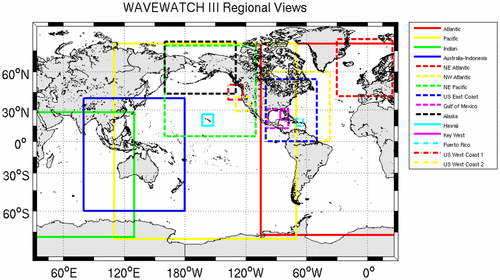 Click on image to enlarge
Forecast Zones
Click to open the Product Viewer for the selected zone (latest model run)
WAVEWATCH III® Tutorials
Two COMET modules are available regarding WAVEWATCH III® and analysis of ocean swell:
Disclaimer
While WAVEWATCH III® is an operational model, we cannot guarantee the timeliness or accuracy of the model data and figures offered on this site. Please see our disclaimer for more information.
Questions or Comments?
We welcome any questions or comments you may have on the WAVEWATCH III® system.
Sign up for the MMAB mailing list for updates and information on these products.
For questions or problems with the website please contact us.
(none)