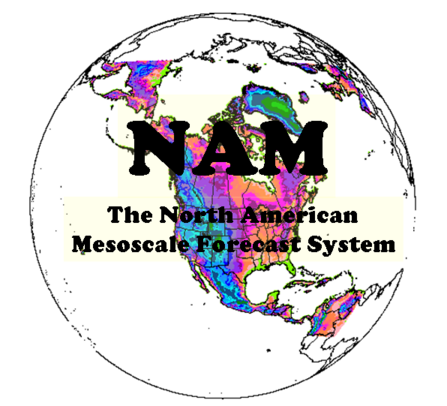 The North American Mesoscale Forecast System (NAM) is one of the primary vehicles by which NCEP's Environmental Modeling Center provides mesoscale guidance to public and private sector meteorologists. It is run four times daily at 00z, 06z, 12z, and 18z and consists of the following components:

- The NOAA Environmental Modeling System (NEMS) version of the Non-Hydrostatic Multi-scale Model in B-grid (NMMB)

- The NCEP regional Grid-Point Statistical Interpolation (GSI) analysis

The NAM is initialized with a 12-h run of the NAM Data Assimilation System, which runs a sequence of four GSI analyses and 3-h NEMS-NMMB forecasts using all available observations to provide a first guess to the NAM "on-time" analysis.

The NCEP High-Resolution Window Forecast System (HIRESW) consists of daily runs of the WRF versions of the non-hydrostatic, hybrid vertical coordinate mesoscale model (NMM) and the NCAR Advanced Research WRF (ARW) at ~5 km resolution. All runs except the Alaska domain use the NAM for initial and boundary conditions. The Alaska run uses the NCEP Global Forecast System (GFS) for initial/boundary conditions. Currently, six nested domains are being run, three large domains (East/Central U.S., West/Central U.S., Alaska) and three small domains (Hawaii, Puerto Rico, Guam). This is the current schedule:

0000Z : East/Central U.S., Hawaii, Guam

0600Z : West/Central U.S., Puerto Rico

1200Z : East/Central U.S., Hawaii, Guam

1800Z : Alaska, Puerto Rico

IMPORTANT NOTE : If the NCEP Hurricane model is running for any given cycle, some or all of the operational HIRESW forecasts will be cancelled. As of 6 July 2010, this is production HIRESW configuration when the NCEP hurricane model is running:

- Two or less hurricane runs : All HIRESW runs are made

- Three or four hurricane runs : Both large domain NMM and ARW runs canceled

- Five or more hurricane runs : All HIRESW runs canceled except Guam

Additional NAM/HIRESW Information

__________________________________________________________________________________________________________________

Please mail comments, questions, suggestions about the Mesoscale Modeling Branch to Geoff DiMego, Branch Chief, at Geoff.DiMego@noaa.gov.