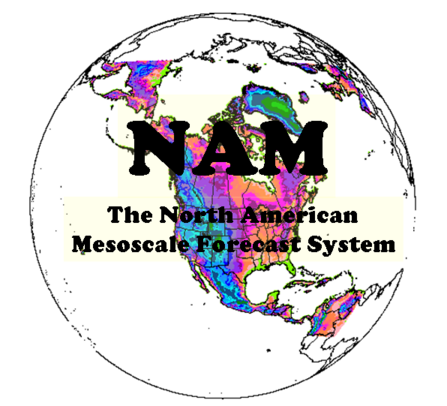 The North American Mesoscale Forecast System (NAM) is one of the primary vehicles by which NCEP's Environmental Modeling Center provides mesoscale guidance to public and private sector meteorologists. It is run four times daily at 00z, 06z, 12z, and 18z and consists of the following components:
- The NOAA Environmental Modeling System (NEMS) version of the Non-Hydrostatic Multi-scale Model in B-grid (NMMB) The NAM run makes forecasts for the following domains in one execution of the production run:
Full North American 12 km parent domain to 84-h
Four fixed nested domains run to 60-h at 3 km resolution, which are all one-way nested inside the parent 12 km domain:

CONUS
Alaska
Hawaii
Puerto Rico
One very high-resolution nest run to 36-h at 1.5 km horizontal resolution that is placed at different locations each cycle. During the summer fire weather season the location of this nest is usually determined by the National Interagency Fire Center and is used primarily to provide high-resolution guidance to IMETS. During the rest of the year the location is set based on requests from the NCEP Service Centers and NWS Offices
- The NCEP regional Grid-Point Statistical Interpolation (GSI) analysis
The NAM is initialized with a 6-h Data Assimilation (DA) cycle with hourly analysis updates for the 12 km parent domain and the 3 km CONUS/Alaska nests. The non-cycled nests (Hawaii, Puerto Rico, Fire Weather) are initialized with a first guess from the 12 km parent domain,
The NCEP High-Resolution Window Forecast System (HIRESW) consists of daily runs of the NEMS Non-hydrostatic Multiscale Model on B-grid (NEMS-NMMB) and the NCAR Advanced Research WRF (ARW) at ~3-4 km resolution. Initial conditions are provided by the NCEP Global Forecast System (GFS) for the Alaska, Hawaii, Puerto Rico, and Guam domains. The Rapid Refresh (RAP) analysis initializes the CONUS domain.
Currently, five nested domains are being run, two large domains (CONUS, Alaska) and three small domains (Hawaii, Puerto Rico, Guam). This is the current schedule:
0000Z : CONUS, Hawaii, Guam
0600Z : Alaska, Puerto Rico
1200Z : CONUS, Hawaii, Guam
1800Z : Alaska, Puerto Rico
IMPORTANT NOTE : As of 9/19/2013, preemption of the HIRESW run by the NCEP hurricane model runs has been suspended until further notice.
Additional NAM/HIRESW Information

__________________________________________________________________________________________________________________

Please mail comments, questions, suggestions about the EMC's Mesoscale Modeling/Analysis Systems to Eric.Rogers@noaa.gov.